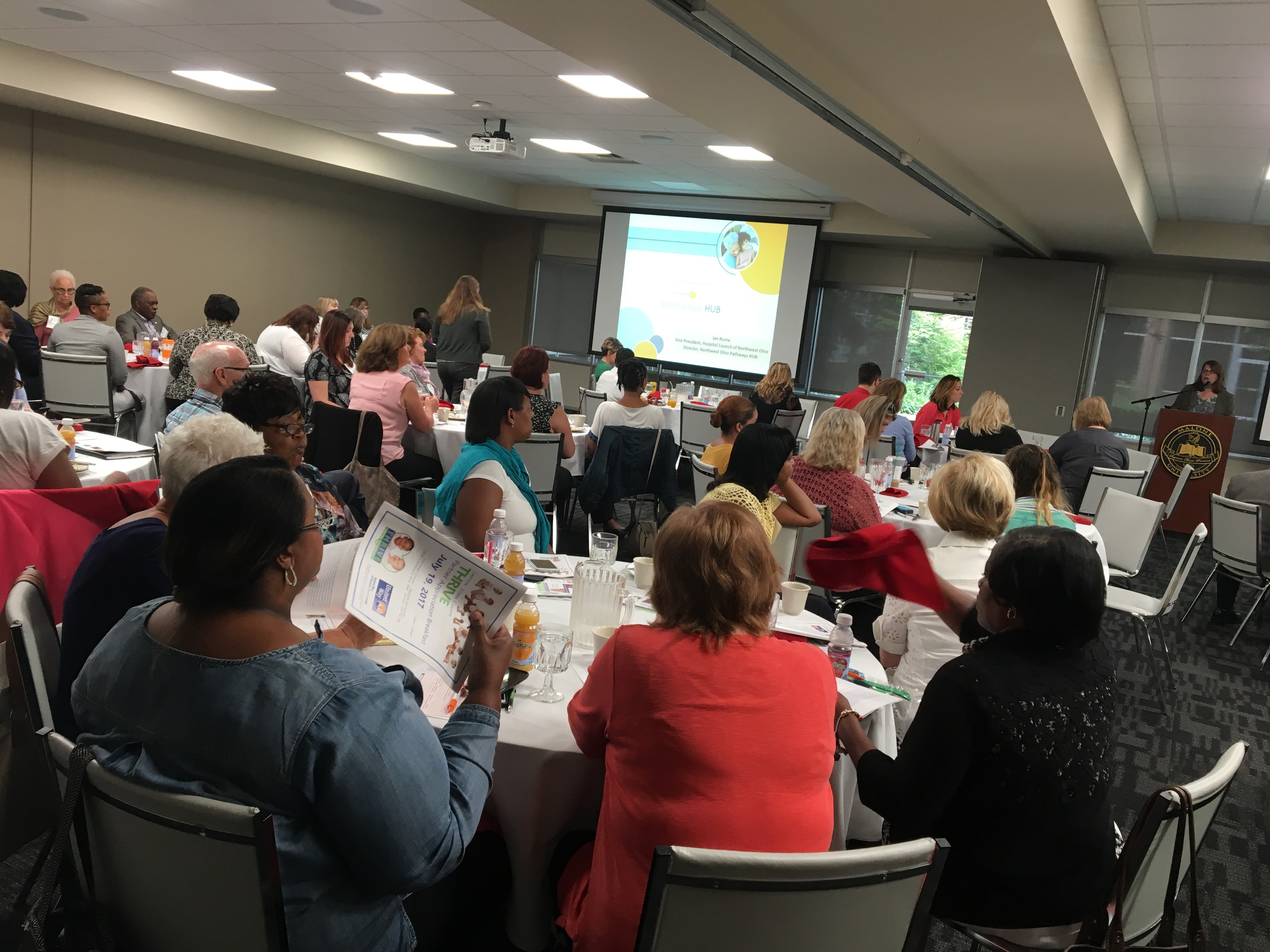 On July 19th, Canton-Stark County THRIVE held a breakfast for community partners, service agencies, elected officials, community health workers, and funders to celebrate what we have accomplished as a collaborative and highlight some of the programs. Attendees heard presentations on:
Northwest Ohio Pathways HUB Partnership by Jan Ruma Vice President of the Hospital Council of Northwest Ohio
Ms. Ruma gave an introduction to the new partnership between Canton-Stark County THRIVE and the Northwest Ohio Pathways HUB. Through this partnership, THRIVE Community Health Workers will use the NW Ohio Pathways HUB Care Coordination System to identify client risk factors, assign each risk factor a Pathway, and create accountability for successfully tracking completion of each Pathway. There are 20 Pathways including Medical Home, Smoking Cessation, Social Service, Pregnancy, Postpartum, and many more. By partnering with the NW Ohio Pathways HUB rather than starting a new HUB, THRIVE Community Health Workers will be billing the Medicaid Managed Care Plans for their services immediately, creating sustainability for their positions in our community.
Cultural Competency Presentation by Jessica Zavala, Stark County Mental Health & Addiction Recovery and Remel Moore
Faith-based and Grassroots Initiative by James Adams Canton City Health Department Health Commissioner
Epidemiology Update by Annmarie Butusov, Canton City Health Department Epidemiologist
Community Health Worker Program by Michelle Watkins and Tricia Warner, Stark County Health Department CHWs
THRIVE Evaluation by Drs. Peter Leahy and Lynn Falletta, Kent State University
CenteringPregnancy® Testimonial from Tanganica Tucker delivered by Danielle Bunner, THRIVE Care Coordinator